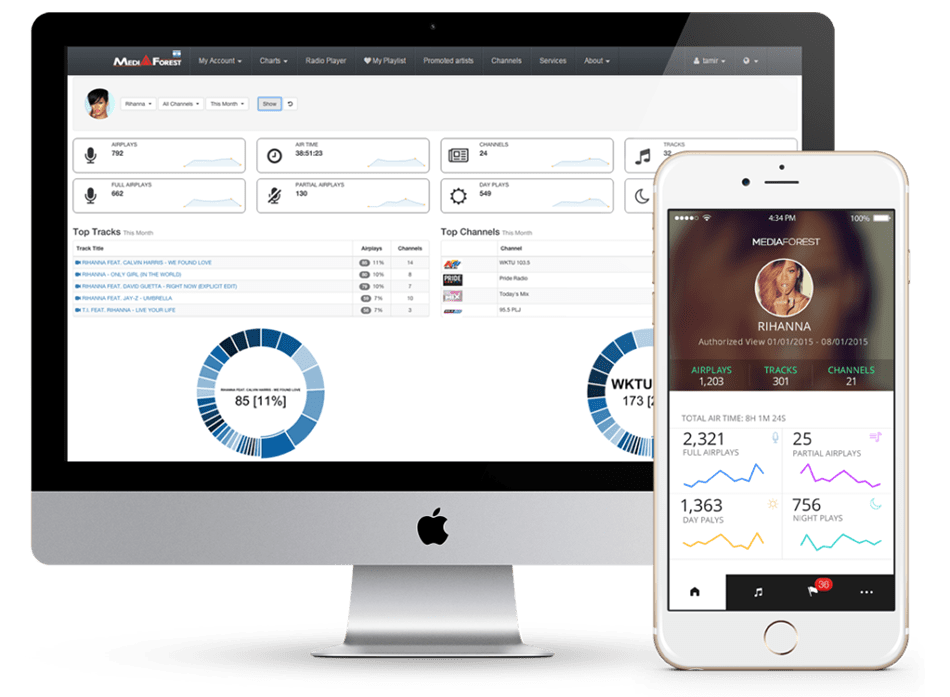 מדיה פורסט
לדעת שאתה

באויר
מדיה פורסט
מנטרת, מקליטה ומזהה תכנים ב
ערוצים משדרים (טלויזיה, רדיו, רדיו אינטרנטי)
שרותי סטרימינג (spotify, youtube, deezer ועוד.)
מאגרי פודקסט (הסקטים)
יותר מ 30,000 ערוצים מנטרת
שירים, פרסומות, קיוטונים ודיבור חופשי (תמלול) מזהה
בזמן אמת נתונים ופילוחים לתעשיות המוזיקה והפרסום מדווחת
Media Forest
KNOW YOU ARE ON

AIR
The Media Forest Group
specializes in sound and video signal processing, analytics, Automatic Content Recognition (ACR) and Automatic Speech Recognition (ASR) with a unique AI, cloud-based, SaaS platform that monitors TV, radio and online streams and provides real-time, accurate, actionable and value-creating insights for the wider music and advertising industries.
We
convert free speech into searchable text with our automatic real-time transcription engine and analytics platform, enabling audio searches within TV/radio broadcasts, audiovisual media clips, and podcasts based on the mentioned keywords.
Media Forest
is tracking for content and spoken media on thousands of radio stations and TV channels, providing artists, publishers, brands, advertisers and organizations around the world with valuable real-time data.
broadcasting channels (tv, radio, internet radio)
streaming services (spotify, youtube, deezer etc.)
podcasts directories (BBC, PlayerFM etc.)
---
Monitoring thousands of channels and growing
Identifying music, advertisements, cue tones and speech
Reporting real-time personalized reports, charts and push notifications to smart phones